Our Commitment
A holistic concept of "Help to Self-Help"
We are committed to the people of the village of Ritschow because this very rural area has been left alone to cope with the terrible aftermath effects of the Chernobyl catastrophe. The work is not limited to the transfer of donor money. Our frequent personal visits to Ritschow have enabled us to become familiar with the living situation of its inhabitants. From these experiences, we have developed an overall comprehensive concept how to provide effective, long-term help.
Host Parents
The reduction of the radioactive load on the child's body is of primary importance. This is accomplished by a 4-week, medically managed recuperation holiday with host parents in the Hochrhein area, in the Black Forest and in Switzerland, away from the radioactively contaminated area.

Through the hosting of the children in host families, friendships develop which have a positive influence on the life of the children and their families. The direct help of the host parents also improves the living standards of the childrens' families.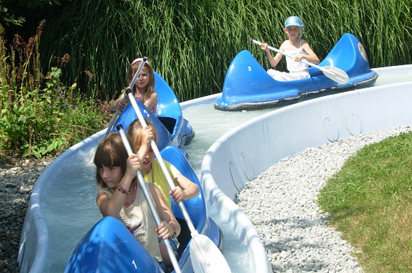 Childrens' Recuperation
Medical and Dental Supervision
A free medical and dental examination and treatment of all children during their stay with host families and/or after their return to their home country are an integral part of our overall concept.
School and Education
An important step is also the improvement of the existing school environment and providing a possibility for further education. This includes supporting the teachers in their post-graduate education and providing appropriate school equipment. Each year, we contribute funds to provide a basic supply of teaching material such as books, equipment, chalk and paper. In addition, the classrooms were equipped with blackboards and adequate lighting and the sanitary facilities totally renewed. The sanitary facilities were not only financed, but also installed in Ritschow, by the committed work of volunteers from our German organization together with the Ritschow school teachers.
Family Help
We help and support children who live in the worst family situations. This involves not only direct financial help for the children's well-being but also coordinated work with the municipal government.
Educational Scholarships - "Help to Self-Help"
Educational scholarships are a forward-looking way to advance persons and the region in a long-lasting manner. Like everywhere in the world, a solid education and an occupation are the basis for a meaningful and happy life.
An overview of our activities can be found under Projects.
You want to help? We are grateful for every form of support.